ช่วงนี้รับงานที่ต้องใช้ Solaris 10 เป็นหลัก เลยติดตั้ง Solaris ใน VMware Server เพื่อไว้เป็นเครื่องทดสอบคำสั่ง และโปรแกรมต่างๆ
บทความนี้ขอนำประสบการณ์มาแชร์ให้กัน เผื่อเป็นประโยชน์สำหรับผู้ติดปัญหาการติดตั้ง Solaris 10 x86 เหมือนผู้เขียน
ในที่นี้ใช้ไฟล์ iso (sol-10-u8-ga-x86-dvd.iso) จากเว็บไซต์ sun.com เพื่อติดตั้งบน VMware Server
คอนฟิก guest ที่สร้างไว้ บน VMware Server เวอร์ชั่น 1.0.10 คือ
Guest Operating System: Solaris 10 64-bit
Memory 512 MB
Disk 37.3 GB
พยายามติดตั้งอยู่นานก็ไม่สามารถติดตั้งได้ ขึ้น error
SunOS Release 5.10 Version Generic_141445-09 32-bit
Copyright 1983-2009 Sun Microsystems, Inc.  All rights reserved.
Use is subject to license terms.
panic[cpu0]/thread=fec20160: page_unlock: page fe2b57d0 is not locked.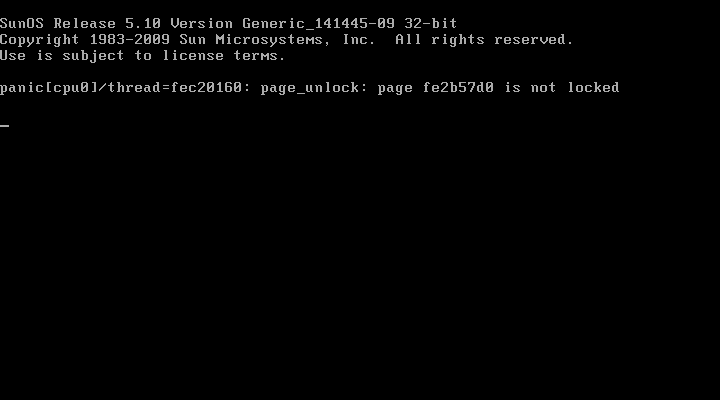 หลังจากค้นหาข้อมูลอยู่นาน ก็พบต้นตอของปัญหาจากเว็บไซต์ Installation – Solaris 10 Installation error on Thinkpad A20m – Please help!!!!!!! PLEASE!

S10U8 cannot hit a 512Mb memory system and I suspect you are there. In Parallels you can just up the memory slightly. At least in virtual box 512

will give the same error while 609mb does not.
ทดลองเปลี่ยนคอนฟิกของ memory เป็น 768 MB ผลเป็นว่าสามารถติดตั้ง Solaris 10 ได้ แต่สังเกตว่าน่าจะเป็นการติดตั้ง Solaris 10 แบบ 32-bit
SunOS Release 5.10 Version Generic_141445-09 

32-bit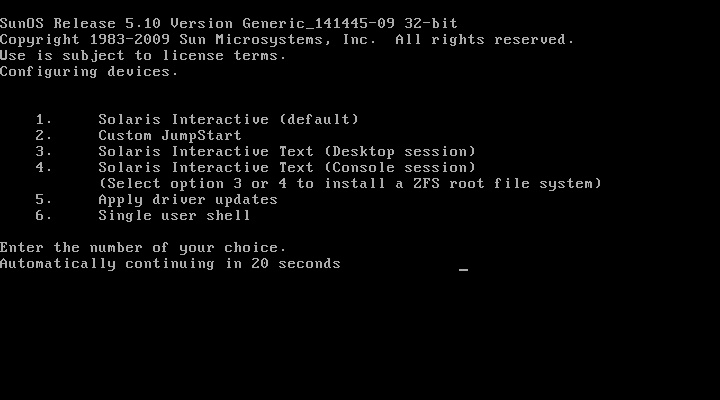 ทดลองเพิ่มขนาด memory เป็น 1024 MB ผลที่ได้ จะเป็นการติดตั้ง Solaris 10 แบบ 64-bit
SunOS Release 5.10 Version Generic_141445-09 64-bit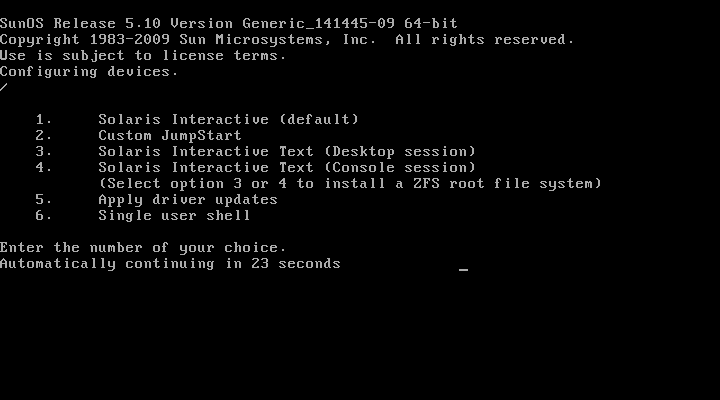 แต่ไม่ว่าจะคอนฟิกขนาด Memory 768 MB หรือ 1024 MB ตอนติดตั้ง สุดท้าย Solaris ที่ได้จะเป็นแบบ 64-bit
หมายเหตุ ไม่ได้ทดสอบบนเครื่อง PC จริงๆ ว่าได้ผลเหมือนกันหรือไม่ ลองกันดูนะครับ
ข้อมูลอ้างอิง